Description
Collagen Peptides to Support Healthy Skin, Bones, and Joints◆
Dynamic Collagen Renew contains Fortigel®, Fortibone®, Tendoforte®, and Verisol® collagen peptides to promote vibrant skin and nails while also supporting healthy joints, bones, ligaments, and tendons.◆ Fortigel® promotes joint health.◆ Fortibone® promotes bone health.◆ Tendoforte® promotes healthy ligaments and tendons.◆ Verisol® supports skin and nail health.◆
Dynamic Collagen Renew is an unflavored blend of collagen peptides to support healthy skin, bones, and joints.◆ This concentrated dietary source of collagen is an excellent choice to support high protein intake with a host of health benefits including:
• Support for healthy skin appearance◆
• Promotes healthy nails◆
• Support for healthy joints◆
• Promotes healthy bones◆
• Support for healthy ligaments and tendons◆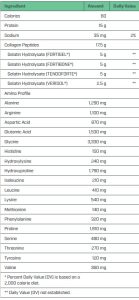 Other Ingredients :
Bovine Collagen Peptides.
Recommendations :
Shake canister before scooping. Mix 1 scoop in 8 ounces of water, your favorite beverage, or a recipe as a dietary supplement or as directed by your healthcare practitioner.
If you are pregnant, nursing, or taking medication, consult your healthcare practitioner before use. Keep out of reach of children.