Description
Comprehensive Support for Healthy Estrogen Balance◆
Estro Balance provides support for healthy molecular and cellular functions needed to balance estrogen hormone metabolism. The formula uses several highly bioavailable and clinically proven trademarked ingredients including BioFolate®, BioResponse DIM® Complex, and HMRlignan™ to help support balanced estrogen for men and women.◆
The ingredients in Estro Balance are supported by research in promoting healthy estrogen balance.◆
Clinical evidence and research cited herein shows that the ingredients in Estro Balance may:
• Support healthy estrogen balance◆
• Support healthy endocrine function◆
• Support cardiovascular health◆
• Promote healthy stress response◆
• Promote overall health and well-being◆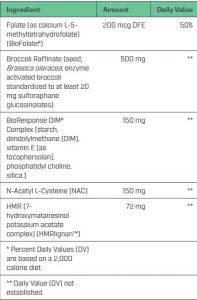 Other Ingredients :
Hypromellose, microcrystalline cellulose, vegetable magnesium stearate, silica.
Recommendations :
Take two capsules daily or as directed by your healthcare practitioner.
Do not use if you are pregnant, nursing, or may become pregnant. If taking medication, consult your healthcare practitioner before use. Harmless changes in urine color may occur while using this product. Keep out of reach of children.