Premier Cholestin Support
Support for Healthy Cholesterol Levels Already in the Normal Range◆
Support for Healthy Cholesterol Levels Already in the Normal Range◆
Cardio Essentials Cholestin Support promotes overall cardiovascular health with specific focus on supporting healthy cholesterol levels already in the normal range.◆
Each of the individual ingredients in Cardio Essentials Cholestin Support have been shown to support healthy cholesterol levels already in the normal range through natural physiological processes.◆
This innovative formula provides sustained-release nutrients to support the cardiovascular system.◆ The formula now comes in packets containing two separate types of tablets to assist disintegration time resulting in further reduced facial flushing.◆ Each packet contains two red yeast rice/phytosterols tablets and one niacin/pantethine tablet.
Supplementation with Cardio Essentials Cholestin Support may include these benefits:
• Support healthy cholesterol levels already in the normal range◆
• Promote healthy blood lipid levels already in a normal range◆
• Support cardiovascular function◆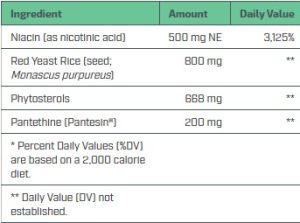 Other Ingredients :
Red Yeast Rice/Phytosterols: Isomalt, vegetable stearic acid, vegetable magnesium stearate, silica. Niacin/Pantethine: Vegetable waxes (rice bran and/or carnauba), vegetable stearic acid, silica, vegetable magnesium stearate.
Each Packet Contains: 2 Red Yeast Rice/Phytosterols tablets (reddish brown) and 1 Niacin/Pantethine tablet (white).
Recommendations :
Take one packet twice daily with food or as directed by your healthcare practitioner.
Temporary flushing, itching, or warming of the skin may occur. If you are pregnant, nursing, or taking medication, consult your healthcare practitioner before use. Keep out of reach of children.