Description
Daily Drink with the Antioxidant Power of 20+ Servings of Fruits & Vegetables!◆
NutriDyn Fruits & Greens is an easy-to-mix, great tasting, nutrient-rich superfood formula with whole food concentrates designed to provide synergistic phytonutrient nutrition. It provides a super blend of 100% natural fruit and vegetable extracts, vitamins, enzymes, and symbiotic intestinalflora— high in antioxidants, lignans, and phytonutrients.◆ This blend supports the body's natural energy, metabolism, fat-burning, digestion, detoxification, immunity, repair, recovery, revitalization, and longevity.◆
Powerful Antioxidant Benefits◆
Supports Immune System Function◆
Natural Body Alkalizer◆
Supports Detoxification of Body Systems◆
Enzymes, Probiotics, & Fiber for Digestion◆
Contains Proprietary Blends of Superfoods
No Preservatives or Sugar Added
No Stimulants or Caffeine
Product composition varies depending on flavor.
Form: ~300 g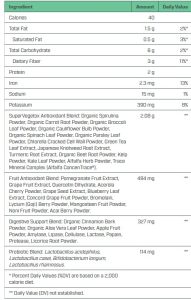 Other Ingredients : Stevia, Natural Flavor, Citric Acid.
Recommendations : Mix 1 scoop in 8 fluid ounces of chilled water daily or as directed by your healthcare practitioner. If pregnant, nursing, or taking medication, consult your healthcare practitioner before use. Contents sold by weight, not volume. Some settling may occur during shipping and handling. Keep refrigerated for maximum freshness after opening.