Description
Advanced Nutritional Support for Optimal Blood Glucose Balance◆
Gluco IR is a high quality vitamin and mineral supplement formulated with a proprietary blend of natural extracts and powders for optimal support in balancing healthy blood glucose levels already in the normal range.◆
Maintaining blood sugar levels within a normal range is a critical aspect of overall health and vitality. Eating a diet rich in wholesome foods and getting adequate exercise can help maintain blood glucose levels in a healthy range. The unique combination of vitamins, minerals, and plant-based extracts in Gluco IR provides advanced nutritional support for optimal blood glucose balance already in the normal range.◆
The benefits of supplementation with Gluco IR may include:
• Help maintain blood glucose levels already in the normal range◆
• Provide potent antioxidant support◆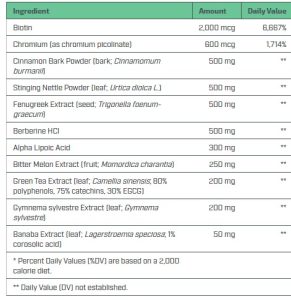 Form:
150 Capsules
Other Ingredients :
Hydroxypropyl methylcellulose, vegetable magnesium stearate, silicon dioxide.
Recommendations :
Take five capsules daily as a dietary supplement, or as directed by your healthcare practitioner.
If pregnant, nursing, or taking medication, consult your healthcare practitioner before use. Keep out of reach of children.