Description
Daily Drink with the Antioxidant Power of 20+ Servings of Fruits & Vegetables!◆
NutriDyn Fruits & Greens is an easy-to-mix, great tasting, nutrient-rich superfood formula with whole food concentrates designed to provide synergistic phytonutrient nutrition. It provides a super blend of 100% natural fruit and vegetable extracts, vitamins, enzymes, and symbiotic intestinalflora— high in antioxidants, lignans, and phytonutrients.◆ This blend supports the body's natural energy, metabolism, fat-burning, digestion, detoxification, immunity, repair, recovery, revitalization, and longevity.◆
Powerful Antioxidant Benefits◆
Supports Immune System Function◆
Natural Body Alkalizer◆
Supports Detoxification of Body Systems◆
Enzymes, Probiotics, & Fiber for Digestion◆
Contains Proprietary Blends of Superfoods
No Preservatives or Sugar Added
No Stimulants or Caffeine
Product composition varies depending on flavor.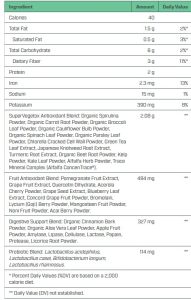 Other Ingredients : Cocoa Bean Powder Processed With Alkali, Soy Lecithin (Non-GMO), Natural Flavors, Stevia, Xanthan Gum Powder.
Recommendations : Mix 1 scoop in 8 fluid ounces of chilled water daily or as directed by your healthcare practitioner. If pregnant, nursing, or taking medication, consult your healthcare practitioner before use. Alfalfa ConcenTrace® is a registered trademark of Trace Minerals Research, L.C.