Description
Marine Lipid Superfoods for Optimal Immune Health◆
Omega Pure Complete is more than the average omega-3 supplement. It is a revolutionary and immunologically active marine lipid superfood with wide-ranging health benefits.◆ It combines sustainable and line-caught clean sources of Alaskan Sockeye Salmon and Cod Liver Oil into a bioactive superfood containing a full-spectrum of omega-3 fatty acids, naturally occurring vitamins A and D, and pro-resolving mediators (PRMs).◆
An extensive body of clinical research demonstrates how supplementation with Omega Pure Complete may include these benefits:
• Promotes a balanced immune response◆
• Supports healthy inflammatory markers◆
• Promotes healthy neurological function◆
• Supports optimal intestinal health◆
• Supports ocular health◆
• Promotes healthy tissues and skin◆
• Promotes healthy aging processes◆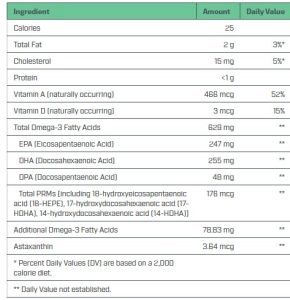 Form:
120 Softgels
Other Ingredients :
Wild Caught Sockeye Salmon and Cod Liver Oil, Capsule Shell (gelatin, glycerin, purified water), Natural Lemon Oil, Natural Mixed Tocopherols From Sunflower Oil.
Contains: Fish (Salmon and Cod).
Recommendations :
Take 2 softgels 1-2 times daily with food or as directed by your healthcare practitioner.
Consult your healthcare practitioner if pregnant, nursing, or taking nutritional supplements or medications. Keep out of reach of children.