Description
Prebiotic Fiber for Overall Health◆
Light berry flavor that mixes with anything!
Dynamic Fiber is a delicious prebiotic formula designed to support intestinal health, aid in weight management, and promote blood glucose levels already in the normal range and healthy lipid profile.◆ Prebiotic fiber feeds the beneficial bacteria living in the gut to support healthy immune and digestive tract function.◆
The prebiotic fiber in rice bran powder, fructooligosaccharides, psyllium husk powder, chicory root extract, apple pectin powder, and oat bran powder are combined in an easy-to-digest drink mix to provide maximum water-soluble intestinal support.◆
The ingredients in Dynamic Fiber supports:
● Healthy digestion◆
● Intestinal health◆
● Heart health◆
● Weight management◆
● Immune health◆
● Powerful antioxidant benefits◆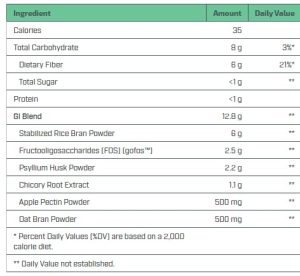 Other Ingredients :
Silica, Natural Flavors.
Recommendations :
Mix 1 scoop in 10-12 ounces of water as a dietary supplement, or as directed by your healthcare practitioner.
If pregnant, nursing, or taking medication, consult your healthcare practitioner before use. Keep out of reach of children.
Warnings:
This product should be taken with at least 10 ounces of water. Taking this product without enough liquid may cause choking. Do not use this product if you have difficulty swallowing.