Description
NutriDyn D3 10,000 with K2 is a highly bioavailable form of Vitamin D3 (as cholecalciferol) and vitamin K2 (as patented MenaQ7®). Vitamin D3 and vitamin K2 are essential micronutrients with ubiquitous roles throughout the body, such as supporting stress levels, bone health, skin health, heart health, and immune function.◆
Vitamin K2 (menaquinone) comes in a variety of forms, with evidence suggesting that the form MK-7 is especially important for people that have chronic health issues causing nutrient malabsorption. Research also demonstrates that vitamin K2 is a crucial micronutrient for supporting the cardiovascular system and bone health.◆
Given the importance of adequate vitamin D levels in the body and many people's lack of exposure to direct sunlight, D3 10,000 with K2 supplementation can help users in a variety of ways. The most relevant researched-backed benefits derived from consumption of vitamin D3 and K2 include:
Supports cardiovascular function◆
Supports healthy mood and stress levels◆
Supports bone and skin tissues◆
Supports immune function◆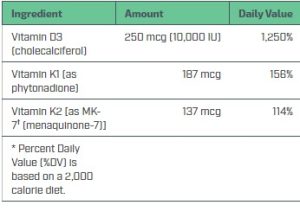 Form:
60 Softgels
Other Ingredients :
Sunflower seed oil, gelatin, glycerin, purified water, calcium carbonate, turmeric extract.
Recommendations :
Take one softgel daily with food or as directed by your healthcare practitioner. Do not exceed recommended dosage unless directed by your healthcare practitioner.
If you are pregnant, nursing, taking medication, or taking anticoagulants consult your healthcare practitioner before use. Keep out of reach of children.
Warnings:
Use should be short-term and include regular monitoring of 25-(OH)- and 1,25-(OH)2-vitamin D levels. This product contains vitamin D at a level that exceeds the adult tolerable upper intake level.
Vitamin K2 may counteract the effects of anticoagulation therapy, and therefore is not recommended for patients on blood-thinning medication.